Planning food over Christmas can be a challenge at the best of times. If you have people on different diets it can be even more of a headache. I don't know about you but I'm all for sharing and enjoying the same foods with no one feeling different or left out. And it saves the cook from having to make different meals for different people.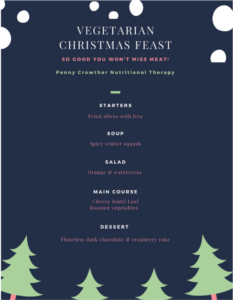 These Vegetarian Christmas recipes can be enjoyed by non meat eaters and carnivores alike. All the recipes are gluten free or gluten free with a simple tweak. And you can be sure you will be getting your quota of healthy plant based food too.
These recipes are part of my festive vegetarian menu. They have been tested on habitual carnivores and passed the test well! This could be the perfect solution if you or your family are veggie/gluten free and you have meat eating guests coming for Christmas.
Or perhaps you are usually a meat eater wanting to share a meatless meal with your vegetarian friends. Either way you will all be able to sit down together and enjoy the same meal.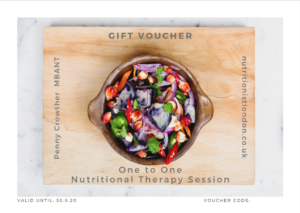 On the subject of Christmas gifts, why not give a friend or loved one a nutritionist gift voucher for a one to one nutrition consultation? The voucher is for a one hour session with me. Your friend or family member will get lots of individually tailored advice. To purchase a gift voucher for a special Christmas promotion price of £95 email penny@nutritionistlondon.co.uk or call 07761 768 754