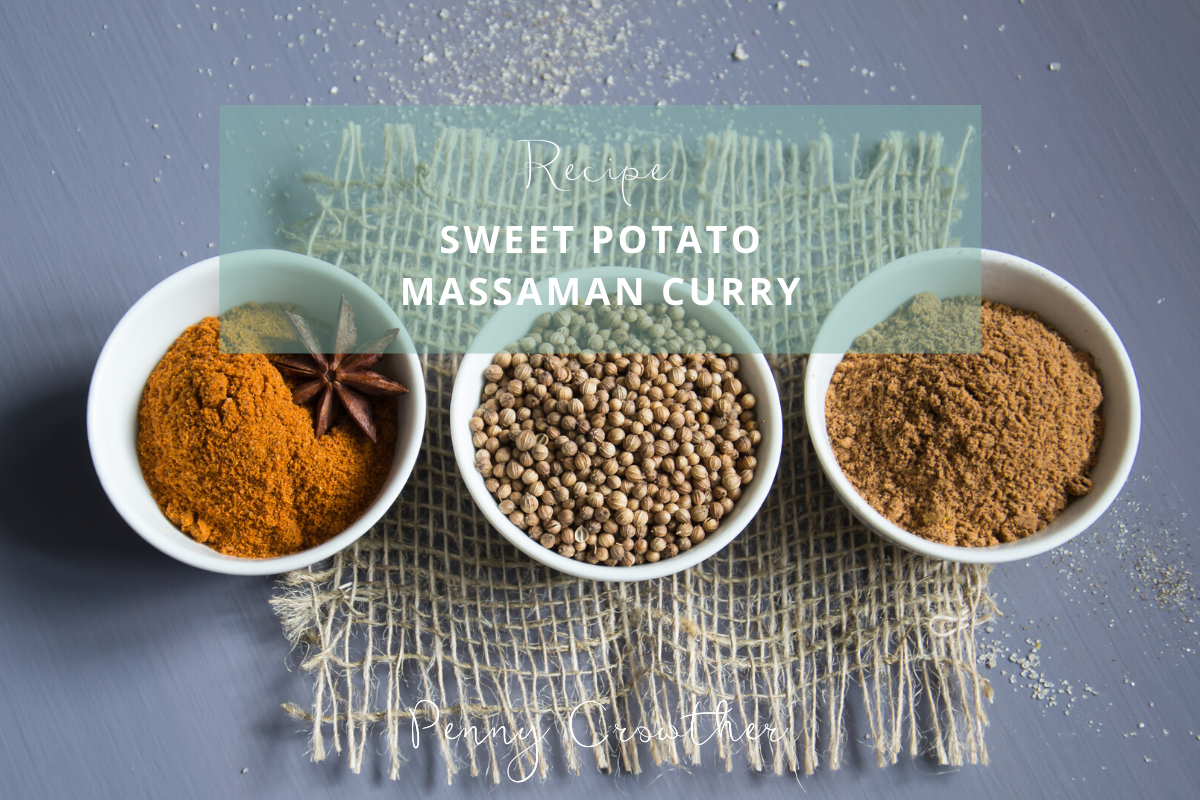 Now here is a great recipe to experiment with. It will spice up a gloomy winter evening with some medicinal benefits thrown in.
Last week I made Dr Rupy Aujla's massaman curry paste (from his book, The Doctors Kitchen) which is a really delicious punchy, aromatic curry paste. It's got a lovely flavour, contains loads of different plant ingredients and it is not super hot, although it contains chilli. It is perfect for dressing up vegetables such as sweet potato, butternut squash, spinach, cauliflower, broccoli. You could add cubed tofu (the Cauldron brand is a very good one) or cod or salmon or chicken if you wish.
It passed the test for me because my other half really liked it despite the huge vegetable content (he is easily put off by too many veg!!)
Saving Time
This is an example of a recipe that could take a while if you were starting from scratch making the paste and the curry. But if you make the paste when you have a spare half hour, you can store it in the fridge for up to a month. It's ready when you need it to zhush up some veg and there is enough for 3 meal times for about 3- 4 people at each meal.
When you are ready to cook dinner, simply fry the paste in some hot oil in a pan, add coconut cream and/or a tin of coconut milk, 300mls stock (e.g. Oxo fresh stock vacuum packed pouches) and a optionally few dashes of tamari sauce (a healthier version of regular soy sauce). Then throw in your veg of choice.
Of course you could buy a Massaman paste from Ocado or Sainsburys. But it won't have such an amazing fresh flavour, contain only pure ingredients or come with the satisfaction you get from hand crafting it (just to throw in a bit of fashionable foodie jargon!)
Ingredients For Massaman Curry Paste
Dry spices:
1 tsp fennel seeds
1 tsp cumin seeds
1 star anise
1 tsp black peppercorns
1 tsp seeds from green cardamom pods (chop the pods in half and squeeze out the seeds)
1 tsp dried chilli flakes
1.5 tsp ground cinnamon
Wet spices:
4cm piece of lemongrass (tender base only) finely chopped
4 garlic cloves, roughly chopped
10g piece of galangal or ginger, peeled and finely chopped
2 shallots, finely chopped
Vegetables
Sweet potato or butternut squash works very well. As does cauliflower and baby corn.
Method
Put the dry spices in a dry frying pan and toast lightly over a medium heat for 1–2 minutes, until they release their aromas. Transfer to a bowl and allow to cool.
Put the wet spices in a dry frying pan and toast for 2–3 minutes, until they release their aromas and are lightly coloured, then add them to the dry spice mixture.
Blend the mixture in a coffee grinder, blender or food processer (as there is only a small amount of the paste, it needs to be a small appliance or have an attachment or it will miss the blades and not get chopped!). My paste wasn't actually a fine consistency, it was quite bitty but it still worked well.
For a better, finer paste, Dr Rupy recommends using a pestle and mortar to crush the spices. This takes around 15minutes and is a lot harder work so I didn't go for that option☺
Store the paste in an airtight container in the fridge for up to 4 weeks. I froze mine in little pots and it defrosted very well.